iiE Awards Programme 2020 - we're going virtual!
05/10/2020

-

08/10/2020

(Online events at 10am-11am and 4pm-5pm)
FREE
Central
East
North East
North West
South East & London
South West
West Midlands
Yorkshire and Humber
This year's Investors in the Environment (iiE) Awards will be bigger and better than ever before, with businesses invited from across the whole of the UK to celebrate organisations' sustainability achievements.
This year marks the 10th anniversary of the Awards, and to celebrate the occasion we are launching a full programme of free online events for you and your team to join.
We are planning a week-long series of webinars to engage organisations with different environmental initiatives to inspire, influence and share best practice. The programme will culminate in the iiE Awards on International Clean Air Day (Thursday 8th October).
Join us at the iiE Awards to discover this year's winners and hear from our fantastic keynote speaker John Grant. John is the author of Greener Marketing (2020) the award-winning Green Marketing Manifesto (2007) and six other books.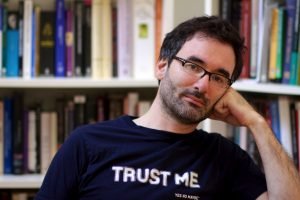 John is a creative marketing strategist whose sustainability-related clients have included the BBC, Cafe Direct, Cisco, the Co-operative Bank, Daylesford Organics, Ecotricity, The Guardian, HSBC, ING, innocent drinks, IKEA, Natura Cosmetics, the Royal Mail, Unilever, the UK Government as well as numerous independent and authentic entrepreneurs. John was previously a co-founder of the socially progressive London creative agency St Luke's (named 1990s Agency of the Decade by AdAge) and also in 2008 co-founded a digital startup called Ecoinomy (with Deborah Meaden) that created a platform and incentives for employees to green their workplaces.
iiE members and non-member businesses are invited to join together in a celebration of eco achievements and to look ahead at what further action can be taken. Join in the conversation online with #iiEAwards.
To register your free place at any of the events, please click on the links in the table below.
The iiE Awards Programme 2020
Monday 5th October 2020
Tuesday 6th October 2020
Wednesday 7th October 2020
Thursday 8th October 2020
10am-11am
Everything you need to know about reducing carbon: including offsetting, carbon neutrality and Net Zero

Speakers: David Knight, Environmental Consultant for Investors in the Environment; Stephen Prior, Director of Forest Carbon

Winner announced for Best Carbon Reduction

Book your place via Zoom here
Tackling the problem of waste

Speakers: Jen Gale, author of The Sustainable(ish) Living Guide; Hugo Tagholm, Chief Executive of Surfers Against Sewage

Winner announced for Best Waste Reduction

Book your place via Zoom here

The challenge of climate change and nature loss: Thinking global, acting local for biodiversity and green spaces

Speakers: Dr Peter Brotherton, Climate Change Director at Natural England; Sean McCormack, Vet, Founder of Ealing Wildlife Group and creator of 'Sean's Wild Life' podcast

Winner announced for Natural Environment Champion

Book your place via Zoom here
4pm-5pm
Water and the Green Recovery: Why water saving matters and how to communicate that in your business

Speakers: Andy Brown, Head of Sustainability at Anglian Water Group; Kate Marx, Campaigns and Social Research Manager at Waterwise

Winner announced for Best Water Reduction

Book your place via Zoom here
From encouragement to advocacy – what can workplaces do to get more people travelling sustainably?

Speaker: Matthew Barber, Head of Partnerships at Sustrans

Winner announced for Sustainable Transport Champion

Book your place via Zoom here
Is your business looking forward? Social responsibility, impact, and the future of business

Speaker: Alice Troiano -
G.APP17 Co-Founder & CEO

Winner announced for Biggest Social Impact

Book your place via Zoom here
iiE Awards 2020

Keynote speaker: John Grant, author of Greener Marketing (2020) and the award-winning Green Marketing Manifesto (2007)

Winners announced for all categories, including Sustainability Influencer (Business and individual) and Overall Outstanding Achiever

Book your place via Zoom here
Read the iiE Awards 2020 programme guide here:
This year's special awards
Name of award
Winner could demonstrate:
Category sponsor
1. Best Carbon Reduction
Absolute carbon reduction relative to other iiE members or averages for their sector (see compareyourfootprint.com). Significant progress on halving their carbon emissions since their baseline year, in alignment with national net-zero emissions. Key carbon reductions in Scope 1 & 2 accounting, which will include direct and indirect carbon emissions from energy, transport, and other significant greenhouse gases. Scope 3, or embedding carbon reductions, will further boost scoring in this area.
2. Best Water Reduction
Best reduction of water against their baseline year with clear evidence of continual improvement each year. Progress through investment in water saving technology and behaviour change campaigns to support reducing wasted drinking water. Example technologies could include use of water saving toilets, fixtures, rainwater harvesting, or other innovations.
3. Best Waste Reduction
Best reduction of waste overall, including waste sent to landfill or energy recovery OR most innovative or impactful action on plastics reduction, reuse, recycling. Use of Circular Economy principles.
4. Sustainable Transport Champion
What actions were taken OR what investments or innovations they made AND how they measured this.
5. Natural Environment Champion
Action or projects they have undertaken (examples include trees/wildflower meadows they have planted) and how they measured their impact. This award will recognise a business for how they have contributed to enhancing or protecting the natural environment, including support for biodiversity and conservation.
6. Biggest Social Impact
Projects undertaken , scale of impact (eg one-off projects or long-term engagement or activity), and feedback from beneficiaries. This award will recognise a business for how they have contributed to their local community through volunteering, financial support, or contribution to human wellbeing.
7. Sustainability Influencer (Business and individual)
List of organisations they worked with, projects they undertook (eg worked with catering, worked with trade associations), feedback from those with whom they affected change, and the environmental campaigns they have run. Will need to show how they have changed behaviours of other people or organisations to inspire change beyond their direct business activities.
8. Overall Outstanding Achiever
Normalised reductions achieved on energy, water, and three others; money saved; investments made and the process followed.

The organisation will demonstrate their resource efficiency across all measured resources against an appropriate metric. For example, reduced energy use per patient/staff member/product produced, reduced waste per patient/staff member, and so on. This Award may only be gained by a Green-accredited member, measuring at least six resources.